Blame clever marketing or advances in technology, but soccer balls from the two biggest players Adidas and Nike, are updated every fews year with new designs.  This is our comprehensive list of all of the official match balls of 2016 that we could find:
The Nike Ordem is the official Match ball of the Barclay's Premier League.  You are going to see this ball a lot in this list as it's clear that Nike has made a concerted effort to be the ball of choice for some of the world's most elite football leagues.  A unique deconstructed spin on traditional ball design – if you look closely you can see the traditional hexagons and pentagons, with seams that split the hexes creating larger pentagon macro shapes. The additional seams most likely allow for slightly more grip on areas of the ball that players familiar with in terms of interaction.

---
The Nike Ordem 15-16 reappears as the official match ball of the Spanish La Liga, covering both the primera and adelante divisions. Its unique colorway reflects the neon color scheme of the the Liga BBVA logo, along with loads of research on the colorways that best play to the Spanish sensibility.  A consistent complaint you'll read from owners of this ball is that it needs to be consistently re-filled with air.
---
Adidas has also made a significant impact on top tier leagues around the world, with the rebranding of its Brazuca World Cup ball of 2014.  In a world of constantly evolving design it is nice to see a manufacturer sticking with a solid design over several seasons.  Our first glimpse of this is the French Ligue 1, Official Match Ball (OMB).  It originally debuted in stark white but was update mid-season to this bold neon green dominated colorway.  The graphics on the ball compliment the seams of the ball without strict adherence adding interest to this harmonious design.
---
The Nike Ordem extends its lifespan into 2017 with a unique bright pink splash for the Italian Serie A.
---
The German Bundesliga has adopted the Adidas Brazuca design and rebranded it at the Torfabrik for their 2016 OMB.  The same welded six panel design as the original Brazuca.  The graphic design features a deconstructed German flag expressed through the triangulation trend popular in modern graphics and illustration.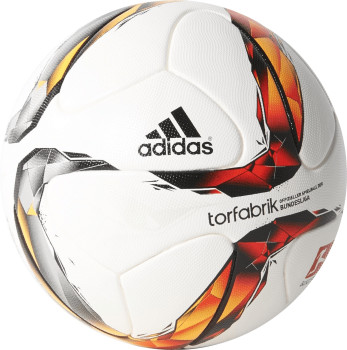 ---